"Love at first sight." We are talking about wedding dress here. There are so many talented designers. After saying "yes" to the proposal, you may have already started looking and looking, searching and searching. Still cannot find the right dress. 
In our Tips of finding your wedding destination, be your wedding venue is at a resort just 10 miles from your home and family or overseas at the beach of Bali in Indonesia, it is always good to decide if you will find a wedding planner to assist. Then, select your venue and decide on the "Theme" of your wedding event. 
Once decision is made, it will be a good time to find your wedding dresses. Yes, plural "es". Different looks at different locations and time of your wedding, that will be perfect for wedding videography and photography. 
At the beach
Something flowy
Showing some legs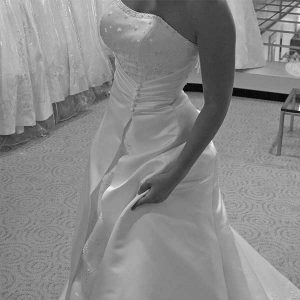 Chateau
Something Classy
Long Train